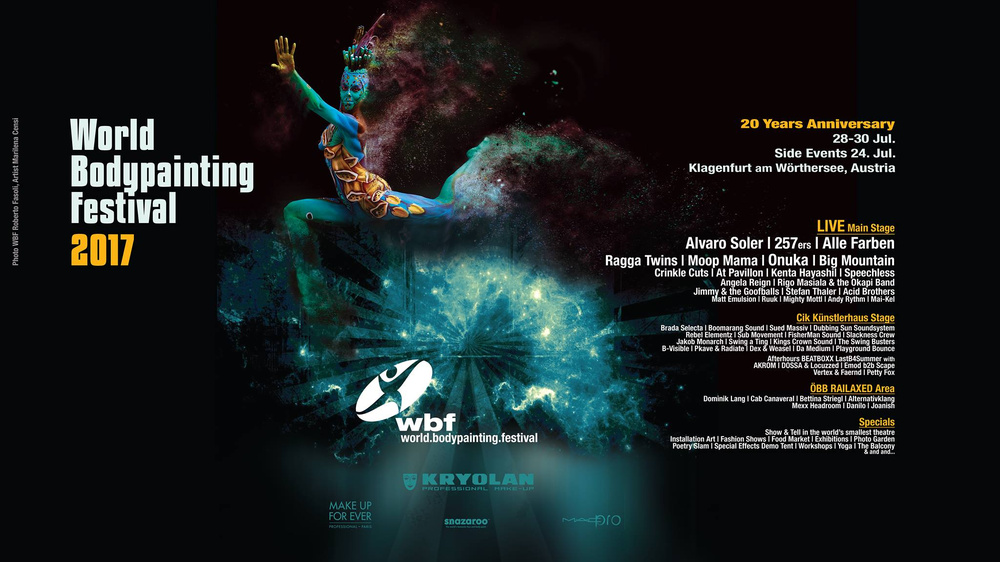 Wann?
28. – 30. Juli 2017
von 10:00 bis 23:59
Wo?
​World Bodypainting Festival
Theaterplatz 1, 9020 Wörthersee
Beschreibung
German / Russian & Line Up below:
=======
Since 1998 the most colourful event in the world takes place in the south of Austria. The festival has a very long tradition and founded the modern bodypainting art movement.
Artists from more than 50 different nations will do their best to stun and entertain visitors at the 20th anniversary of the World Bodypainting Festival, the world championships for Bodypainters. High quality Art creates a special experience for all visitors of the Open Air art park "Bodypaint City" combined with music and shows. The new festival park is situated in the inner city of the state capital Klagenfurt and framed picturesquely by the historical buildings of the theatre, the art house and the city gallery. Additionally this charming place offers a varied range of bars, cafés and restaurants, ideal possibilities for the WB Academy program and the side events.
Website: www.bodypainting-festival.com/en
======
Seit 1998 findet in Kärnten, dem südlichsten Bundesland Österreichs, das bunteste Event der Welt statt. Ein Festival, dass weltweit die moderne Bodypainting Kunstbewegung entstehen lies.
Am 20. World Bodypainting Festival, der Weltmeisterschaft der besten Körpermaler, werden wieder Künstler aus bis zu 50 Nationen alles geben, um mit ihren Kreationen die Besucher zum Staunen, Nachdenken und Lachen zu bringen. Hochqualitative Kunst wird zum Erlebnis für alle Besucher im Open Air Kunstpark "Bodypaint City" und das ganze gepaart mit Musik und Shows.
Das Veranstaltungsgelände befindet sich zentral im Goethepark in Klagenfurt, umgeben von den Prunkbauten Stadttheater, dem Künstlerhaus und der Stadtgalerie. Zudem bietet die charmante Stadt eine lebendige Gastronomieszene, perfekte Möglichkeiten für das "WB Academy" Programm und sämtliche Side Events.
Website: www.bodypainting-festival.com/de
=====
В 1998 году, на юге Австрии, в сказочном уголке федеральной земли Каринтии зародилось самое красочное событие в мире. «World Bodypainting Festival» является крупнейшим событием в искусстве бодиарт. На сегодняшний день, фестиваль основал современное движение мастерства бодиарта.
Художники более чем из 50 различных стран будут делать все возможное, чтобы поразить и развлечь посетителей 19-го Всемирного Бодиарт Фестиваля, всемирного чемпионата по бодиарту. Профессионализм и высокое качество работ существ гуляющих на открытом воздухе в парке "Bodypaint City" сопровождается музыкальными исполнениями лучших Dj и музыкантов в 5 различных зонах.
Website: www.bodypainting-festival.com/ru
♥♥♥ LINE UP♥♥♥♥ ♥♥♥ LINE UP♥♥♥♥ ♥♥♥ LINE UP♥♥♥♥
♫♫ LIVE Main Stage ♫♫
Alvaro Soler | 257ers | Alle Farben | Ragga Twins | Moop Mama | Onuka | Big Mountain | Crinkle Cuts | At Pavillon | Kenta Hayashi| | Speechless | Angela Reign | Rigo Masiala & the Okapi Band | Jimmy & the Goofballs | Stefan Thaler | Acid Brothers | Matt Emulsion | Ruuk | Mighty Mottl | Andy Rythm | Mai-Kel
♫♫ Cik Künstlerhaus Stage ♫♫
Brada Selecta | Boomarang Sound | Sued Massiv | Dubbing Sun Soundsystem | Rebel Elementz | Sub Movement | FisherMan Sound | Slackness Crew | Jakob Monarch | Swing a Ting | Kings Crown Sound | The Swing Busters | B-Visible | Pkave & Radiate | Dex & Weasel | Da Medium | Playground Bounce
Afterhours BEATBOXX LastB4Summer with AKROM | DOSSA & Locuzzed | Emod b2b Scape | Vertex & Faernd | Petty Fox
♫♫ ÖBB RAILAXED Area ♫♫
Dominik Lang | Cab Canaveral | Bettina Striegl | Alternativklang
Mexx Headroom | Danilo | Joanish
♫♫ Specials ♫♫
Show & Tell in the world's smallest theatre | Installation Art | Fashion Shows | Food Market | Exhibitions | Photo Garden | Poetry Slam | Special Effects Demo Tent | Workshops | Yoga | The Balcony & and and...