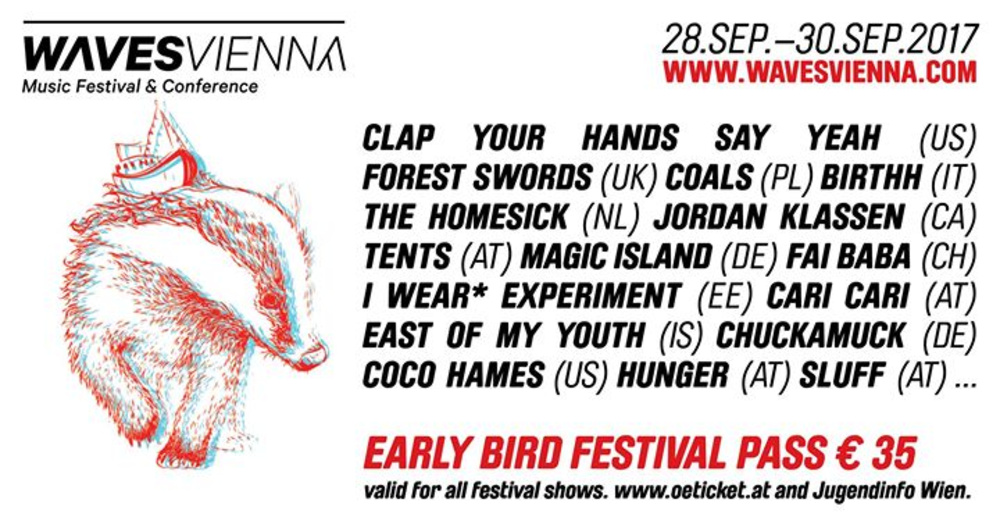 Wann?
28. September – 1. Oktober 2017
von 18:00 bis 04:00
Wo?
Wuk
Währinger Straße 59, 1090 Wien
Beschreibung
Waves Vienna is the city's first club- and showcase festival. In autumn Vienna's most significant clubs, unique off-locations, and the public space will merge into the site of the Waves Vienna Festival.
FESTIVAL
Waves Vienna's motto is "East meets West"; numerous international alternative, electronic, rock, and club acts will be performing around Vienna's 9th district. Additionally, local artists and sophisticated musicians from Eastern Europe form an essential part of the festival's programme.
This year, Waves Vienna will welcome two neighbouring countries as special guests: Italy in the south and the Czech Republic in the north of Austria. True to the motto "East Meets West", there will be a focus on acts from these countries in the live programme. The Waves Vienna Music Conference will furthermore devote a part of its programme to the respective music markets and scenes of these countries.
CONFERENCE
The Waves Vienna Music Conference constitutes a part of the festival and offers the possibility to attend lectures and panels and participate in workshops. The subject-specific programme will deal with the topic "East meets West", which will serve as the basis and inspiration for many years of pan-European cooperation.
FACTS & FIGURES
Date 28. - 30. SEP. 2017
Venues t.b.a. (Festival & Conference Centre @ WUK)
FIRST & SECOND ANNOUNCMENTS
At Pavillon (AT)
Birthh (IT)
Cari Cari (AT)
Clap Your Hands Say Yeah (US)
Coals (PL)
Coco Hames (US)
Chuckamuck (DE)
EAST OF MY YOUTH (IS)
Fai Baba (CH)
Forest Swords (UK)
Hunger (AT)
I Wear* Experiment (EE)
Jordan Klassen (CA)
Magic Island (DE)
Sluff (AT)
TENTS (AT)
The Homesick (NL)
and many more to come.