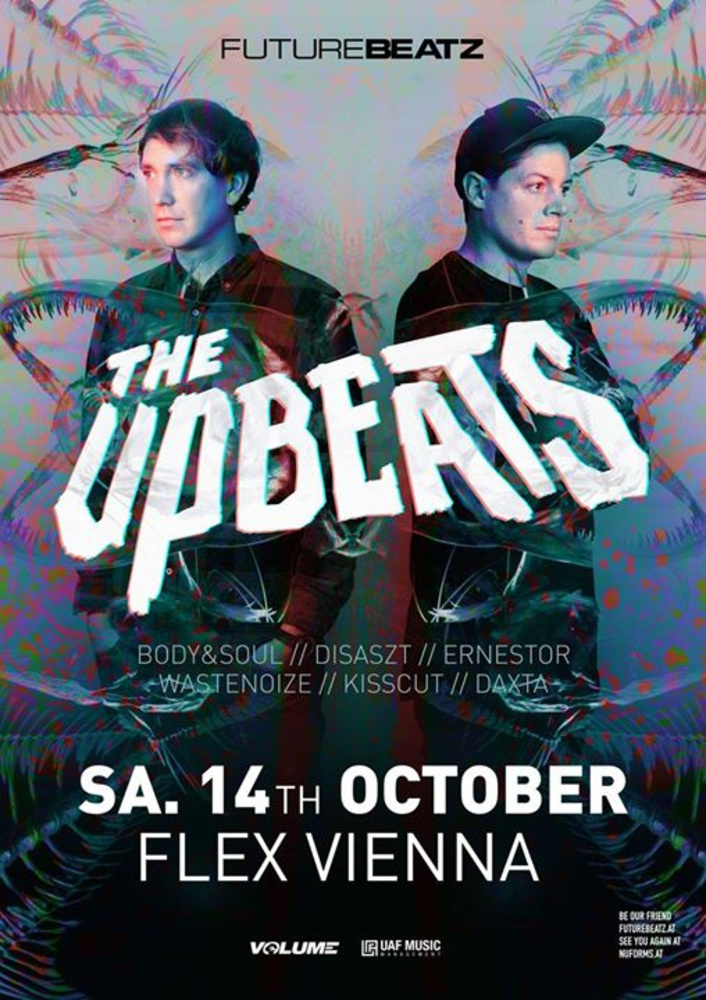 Wann?
Samstag, 14. Oktober 2017
von 23:00 bis 06:00
Wo?
Flex
Augartenbrücke 1, 1010 Wien
Beschreibung
In today's heady climate of bass-fuelled dance music it could easily be argued that producer-DJs are the new rock stars. Climbing into that mould with a pair of schoolboy grins on their faces, The Upbeats have already been playing that role for years. Their anything-goes live performances are renowned for mosh pits, topless dancers (sometimes women) and crowd surfing, while their approach to writing hard-hitting, unique-sounding drum & bass is lauded across the globe.
Perennially packed with enough energy to rock the floor and backed up with genuine emotion and an infinite capacity to inject a taste of something different into their music, The Upbeats' albums drag you deep into their own personal world of drum & bass. That's a world which is infused with the duo's sibling-like relationship, a propensity for having fun, unusual food combinations at breakfast time and an unnerving amount of insect-based facts. Not only are The Upbeats producers with studio skills, they've also got a few things which link them to all the best artists in history; bags of character, endless amounts of fresh ideas and a large dose of friendly rock star attitude.
FACTA.
THE UPBEATS (VISION - NZ)
Special guest: KISSCUT (UK)
Body&Soul
DIsaszt
Ernestor
WasteNoize
Kisscut
MC DAXTA
Saturday, Oct. 14th 2017 | 23:00 - 06:00 | FLEX, Vie | 15 EUR