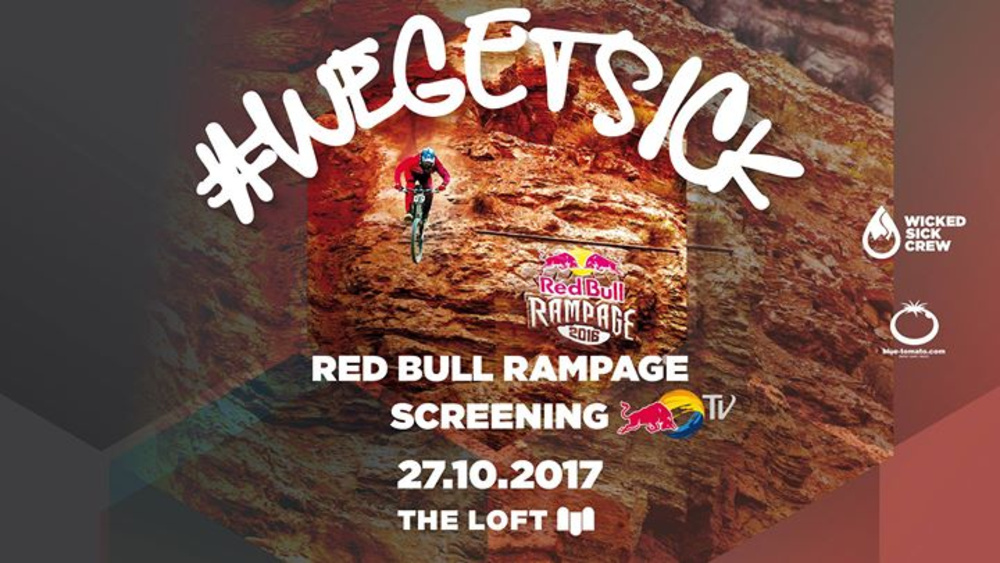 Wann?
Freitag, 27. Oktober 2017
von 19:00 bis 06:00
Wo?
The Loft
Lerchenfeldergürtel 37, 1160 Wien
Beschreibung
Whoop!
Wir zeigen euch gemeinsam mit Red Bull TV das einzige und exklusive Screening der Red Bull Rampage.
Und weil man nach so einem Erlebnis sowieso nicht schlafen kann, heisst es direkt vor Ort Party. Und nicht irgendeine, sondern eine ganz bestimmte Afterparty, die
WeGetSick Rampage Party ft. Wienerwald Trails
► GEWINNSPIELE, SPECIALS & INFOS findet ihr HIER: ◄
"Oct. 27 will mark the 12th edition of Red Bull Rampage where 21 of the world's greatest freeride mountain bikers will descend upon Virgin, Utah's other-worldly terrain."
Red Bull Rampage Trailer 2017: goo.gl/SmfLSN
▬▬▬▬▬▬▬▬▬▬▬▬▬▬▬▬▬▬▬▬▬▬▬▬▬▬▬▬▬▬▬▬
Wann: Fr, 27.10.2017
ab 19.00 stehen die Türen offen
ab 19.30 Red Bull Rampage LIVE Screening
ab 22.00 AFTERPARTY

Wo: The Loft Café (Lerchenfeldergürtel 37, 1160 Wien)
Eintritt: FREIE SPENDE (freie Platzwahl)
▬▬▬▬▬▬▬▬▬▬▬▬▬▬▬▬▬▬▬▬▬▬▬▬▬▬▬▬▬▬▬▬