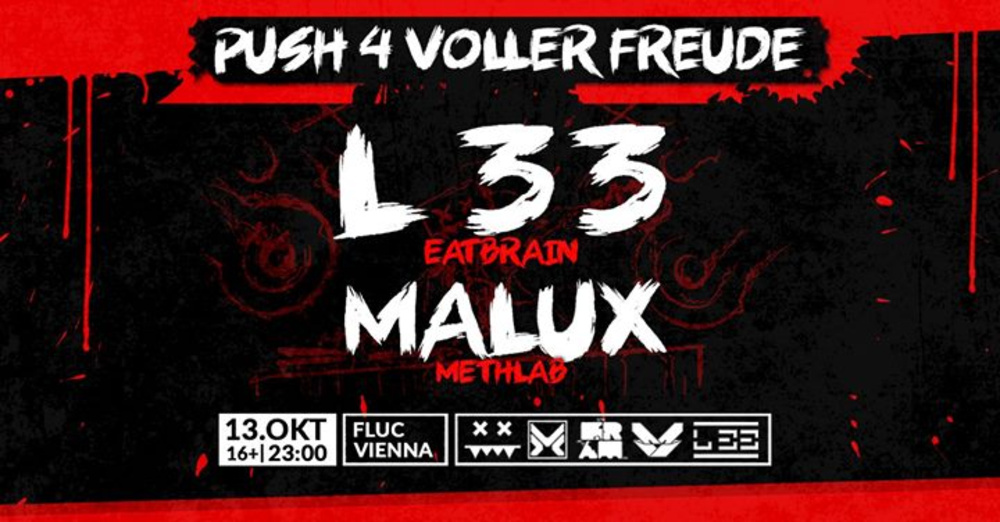 Wann?
Freitag, 13. Oktober 2017
von 23:00 bis 06:00
Wo?
Fluc Wanne
Praterstern 5, 1020 Wien
Beschreibung
Voller Freude & PUSH 4 DNB unite in this showcase presenting you 2 of the worlds most talented drum and bass producers! Get ready for an epic event at the most estimated location of Vienna: fluc + fluc wanne.
//// L 33 [Eatbrain/BG]
https://soundcloud.com/l-33-1
https://www.facebook.com/L33music
/// Malux [MethLab Agency/UK]
https://soundcloud.com/maluxdnb
https://www.facebook.com/maluxdnb/
//// Support:
Wingz [ PUSH 4 DNB ]
BL4CK ONIX [ Voller Freude]
Hidden Detail [ PUSH 4 DNB ]
Soulex_x [Voller Freude/ WHAT ELSE RECS.]
Wasted [Voller Freude]
//// Hard facts:
10€ <00:00> 12€
FR, 13.10.
FLUC
16+
Like all PUSH 4 DNB Channels for future events!
https://www.facebook.com/PushForDnb
https://www.facebook.com/groups/272181049864948
https://www.instagram.com/push4dnb/
http://www.push4.at/
Like all Voller Freude Channels!
https://www.facebook.com/vollerfreudenetwork/
https://soundcloud.com/vollerfreude
http://instagram.com/voller.freude
Unsere Mediapartner:
www.volume.at
www.warda.at