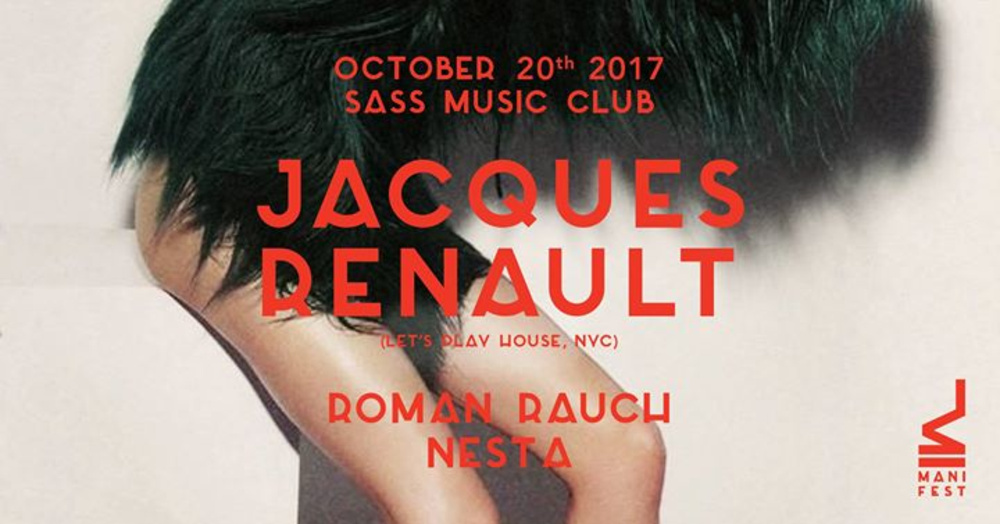 Wann?
Freitag, 20. Oktober 2017
von 23:00 bis 06:00
Wo?
Sass Club
Karlsplatz 1, 1010 Wien
Beschreibung
Manifest w/ Jacques Renault
FR, 20.10.2017
- - -
LINE UP
Jacques Renault
LET'S PLAY HOUSE, New York
Roman Rauch
Manifest, Secret Crunch, Vienna
Nesta
Manifest, Vienna

- - -
Admission
tba
- - -
About / Biography
Jacques is a DJ and producer from the Washington, D.C. area who lives and works in Brooklyn. He runs Let's Play House, a roving house, disco, and techno party as well as an imprint of the same persuasion, with friend and partner, Nik Mercer. He owns three plants, a rotary mixer, thousands of records, and a similar number of T-shirts. Despite working within the confines of a different genre, Dischord Records is still probably his favorite label.
Jacques Renault was a post-punk Washington, D.C. native who moved to Chicago in 1997 to continue his studies of viola, but in turn got an education in dance music. Tapping into the well-established drum 'n' bass scene, he held a residency at Smart Bar and became a buyer at the legendary Gramaphone Records. This broad, raw exposure to House lead him straight back to the classics of Disco and its heart, New York City, where he landed in 2002.
As a DJ, Jacques has held residencies at New York's famed Happy Endings, APT, Tribeca Grand and 205 Club, and has been a guest around the globe in venues like Tokyo's Womb, Rio's D-edge, London's Fabric and Plastic People, and Berlin's Panorama Bar. With his remixes, edits, original tracks, and collaborative project Runaway, he has released music on internationally acclaimed New York labels DFA, Chinatown, RVNG INTL, Throne of Blood, Italians Do It Better, Editions Disco, and Wurst, as well as Tokyo's Mule Musiq & Crue-L, Parisian imprint I'm A Cliché, Munich's Permanent Vacation, Sydney's Hole In The Sky and Future Classic, and, of course, London/Berlin's Rekids.
Along with his Runaway partner Marcos Cabral, Jacques owns and operates the label On The Prowl, and OTP Party Breaks, both of which feature their own material as well as original and remix work from Andy Ash, Simoncino, Brennan Green, TBD, Cosmo Vitelli, the Revenge, Azari & III, Tensnake, Nicholas, Coyote, and Kaos, amongst others. Jacques has also taken up production duties for a number of artists including Warp Records' the Hundred In the Hands, which also featured Richard X, Eric Broucek and Chris Zane.
After nearly a decade of playing for others in NYC, Jacques, along with good friend Nik Mercer, began producing his own series of events called Let's Play House. The duo has brought in guests from abroad like Horse Meat Disco, Mugwump, Rub 'N' Tug, Nicholas, the Revenge, Tiger & Woods, and Todd Edwards as well as local talents DJ Spun, Morgan Geist/Metro Area, TBD, Beg to Differ, Brennan Green, Midnight Magic, and Dan Selzer to name a few. Let's Play House is a moving party that uses Brooklyn warehouses, Manhattan ballrooms, hotel lounges, and everything in between for its regular events. As of September, 2012, LPH is also a record label, releasing one 12" every month. Roster members include the Dead Rose Music Company, Naum Gabo, Fantasic Man (Mic Newman), the M.E.B., Runaway, Toby Tobias, Bicep, and more.
- - -
SASS MUSIC CLUB
Karlsplatz 1
1010 Vienna