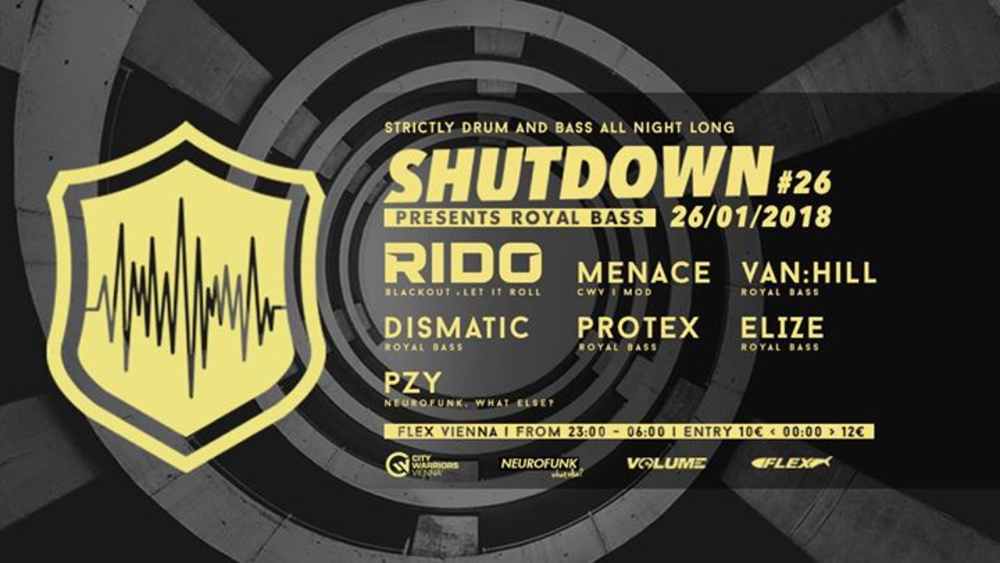 Wann?
Freitag, 26. Januar 2018
von 23:00 bis 06:00
Wo?
Flex
Augartenbrücke 1, 1010 Wien
Beschreibung
Shutdown#26 - ROYAL BASS Takeover w. RIDO
Strictly Drum And Bass All Night Long
"What's poppin', mans,
mans never been in Flex when it's shutdown eh?
Trust me blud"
RIDO
Having caught the electronic music bug after being exposed to The Prodigy, Pavel Ridosko aka Rido decided in 2004 to move to Australia and study sound engineering at the world reknowned SAE in Sydney. After completing the course he moved back to Prague and started making some serious moves in DnB with releases on Fokuz, Kyrptic Minds & Leon Switch's Defcom label and collaborations with New Zealand's finest, Concord Dawn.
In 2011 he went on to work with Black Sun Empire and released on their well respected Obsessions label, and shortly after came the link with the mighty Metalheadz. With friend Hybris, Rido produced 'The Prague Connection' EP for Goldie's label which included the massive 'Focus', a solo 12″ shortly followed in the form of 'Twisted' b/w 'Core' and with more music for Headz and a remix for John B we think you'll be hearing much more from Rido in 2012.
▬▬▬▬▬▬▬▬▬▬▬▬▬▬▬▬▬▬▬▬▬▬▬▬▬▬▬▬▬
Halle:
➢ RIDO (Blackout/Let It Roll)
https://soundcloud.com/rido
➢ Van:Hill (ROYAL BASS/Team Disziplin)
https://soundcloud.com/vanhilldnb
➢ Dismatic (ROYAL BASS/Team Disziplin)
https://soundcloud.com/benic-1
➢ ELIZE (ROYAL BASS/Comrade DNB)
https://soundcloud.com/elizednb
➢ Protex (ROYAL BASS/Team Disziplin)
https://soundcloud.com/protex_td
➢ PZY (Neurofunk, what else?)
https://soundcloud.com/pzydnb
➢ Menace (CITY WARRIORS VIENNA/Masters of Dirt)
https://soundcloud.com/mad-menace-1
€10,- til midnight / €12,- afterwards
▬▬▬▬▬▬▬▬▬▬▬▬▬▬▬▬▬▬▬▬▬▬▬▬▬▬▬▬▬
Supported by:
ILLSKILLZ
ROYAL BASS
Neurofunk, what else?
CITY WARRIORS VIENNA
VOLUME.at
FLEX