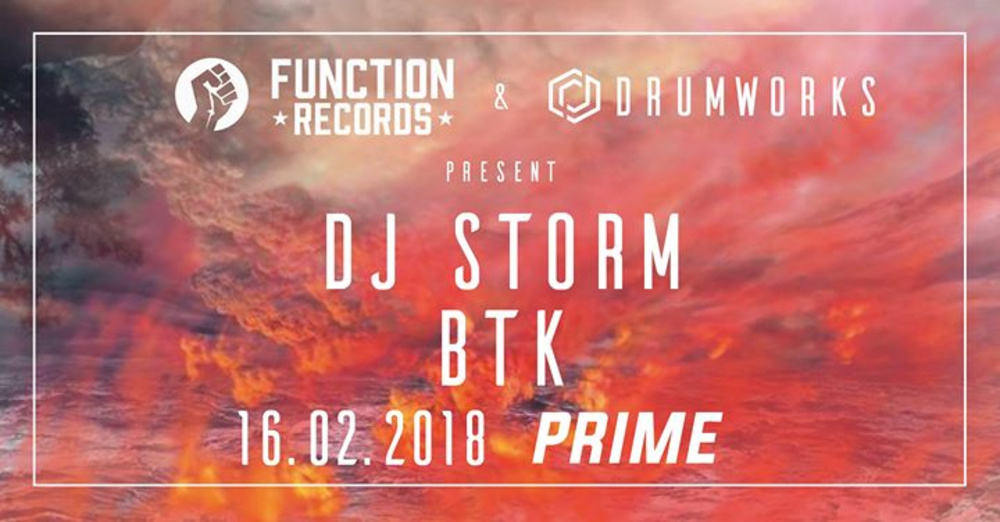 Wann?
Freitag, 16. Februar 2018
von 22:00 bis 06:00
Wo?
Prime
salzgries 4, 1010 wien
Beschreibung
FUNCTION RECORDS x DRUMWORKS W/ DJ STORM & BTK
For our first Event in 2018 we´re happy to announce our Collaboration with Digitals Function Records Label.
As a good Start fort he new year we´ll bring you the Legends
DJ STORM and BTK.
Storm has always been one of the most influential DJs within the Genre. Affectionately dubbed the 'First Lady of Drum &Bass,' she represents Metalheadz at their residencies, label nights and tours as well as countless solo gigs. Having been involved from the very start of the label alongside her great friend and DJ partner Kemistry, Storm's contribution has been immense and critical in helping to build the reputation Metalheadz has today.

BTK's music has found homes far and wide, with international releases on a wide range of the industry's leading labels. His music has appeared on Renegade Hardware, Shogun Audio, Playaz, Dispatch and V Records, to name only a few.

LINEUP:
DJ STORM ( METALHEADZ / FUNCTION / UK )
https://www.facebook.com/pg/DJ-Storm-1058236637555217/about/?ref=page_internal
https://soundcloud.com/djstormdnb
BTK ( RENEGADE HARDWARE / SHOGUN AUDIO / BR )
https://www.facebook.com/djbtk/
https://soundcloud.com/duttyaudio
JAY ROME ( DRUMWORKS / BLU SAPHIR / AT)
https://www.facebook.com/jayrome.blusaphir/?fref=ts
www.blusaphir.com
IVOREE ( DIGITAL BLUS / DRUMWORKS / AT )
https://www.facebook.com/ivoreednb/?fref=ts
https://soundcloud.com/user-186887496
CRUNX b2b NESTIK ( PREDATORS LAB / AT )
https://www.facebook.com/MakkiMills
https://www.facebook.com/konstidnb
SALEM & TUFF GEE & CARTER( JAZZSTICKS / AT )
https://www.facebook.com/salem.dnb.me/
https://www.facebook.com/manuel.weinzierl.7

16.02.2018

PRIME CLUB
Salzgries 4 , 1010 Wien
Doors: 23-06
Entry:
8€ until 24.00
10€ regular
https://functionrecordsuk.bandcamp.com/
https://www.metalheadz.co.uk/home
https://www.shogunaudio.co.uk/
https://www.facebook.com/renegadehardware/
http://www.jazzsticksrecordings.com/