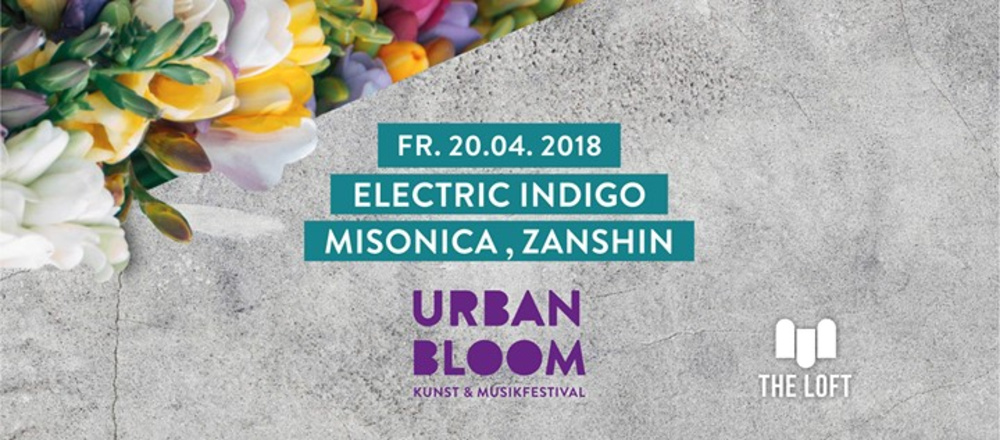 Wann?
Freitag, 20. April 2018
von 22:00 bis 05:00
Wo?
The Loft
Lerchenfeldergürtel 37, 1160 Wien
Beschreibung
Urban Bloom Festival 2018
🌻🌸🌱🌷🌼🍀
Fr. 20.04. | The Loft
starring (on 2 Floors):
Electric Indigo | Zanshin | Misonica
Sam Irl | The Reboot Joy Confession
______________________________
Urban Bloom Festival meets The Loft Pt. 1:
An den Decks eine der Ikonen der elektronischen Musik aus Österreich, ELECTRIC INDIGO, die in ihrer Pionierrolle seit 1989 als Produzentin wie auch als Techno-DJ international gefragt und mit ihrer feministischen Künstlerinnen-Plattform female:pressure maßgeblich an der Sichtbarkeit von weiblichen Protagonisten in der Musikszene beteiligt ist.
Unterstützt wird sie von MISONICA, die in ihrer Tätigkeit als DJ und Veranstalterin ebenfalls einen feministischen Ansatz verfolgt. Musikalisch zwischen Techno und Acid zu verorten, ist sie in ihrem Schaffen bei Femdex, einer Initiative zur Förderung weiblicher Acts, auch netzwerkerisch aktiv.
Das Lineup am Downstairs-Floor komplettiert der umtriebige ZANSHIN aus dem Hause Affine Records, der in seinen eklektischen DJ-Sets ebenso wie in seiner Producer-Tätigkeit den Club-Vibe trotz dichter Sound-Strukturen und komplexer Dichte nie vernachlässigt.
Großes akustisches Kino gibt's auch am Upstairs-Floor bei DJ-Sets zwischen Hip Hop, Jazz & House vom bayrischen Producer SAM IRL und THE REBOOT JOY CONFESSION.
____________________
20.04.2018
The Loft
Lerchenfelder Gürtel 37, 1160 Wien
22:00 // 7,- <23:00> 9,-
VVK: Jugendinfo/WienXtra 7,-
______________________________
URBAN BLOOM 2018
19. APRIL - 04. MAI
IN OTTAKRING & HERNALS
______________________________
KUNST- UND MUSIKFESTIVAL
6 DAYS / 10 LOCATIONS / 50 ARTISTS
Aiko Kazuko Kurosaki, Denny Voch, Brigitte Wilfing, Die Happy Few, Renate Pittroff, Una Steiner, Michael Heindl, Lisa Truttmann
Kreiml & Samurai, Electric Indigo, Scattah Brain, Golnar & Mahan, Brenk Sinatra & Fid Mella, DJ Universal Beatnik, Canned Fit, Zanshin
& many more
______________________________
WEB
- http://www.urbanbloom.at/
- https://www.facebook.com/urbanbloomfestival
- https://www.instagram.com/urbanbloomfestival
#urbanbloomfestival #shift #basiskulturwien
______________________________
PARTNERS
- SHIFT / Basis.Kultur.Wien
- Wien Kultur
- OKTO
- Brunnenpassage
- The Loft
- Roter Bogen
- Restaurant am Kalvarienberg
- Rhiz
- Gürtel Squad