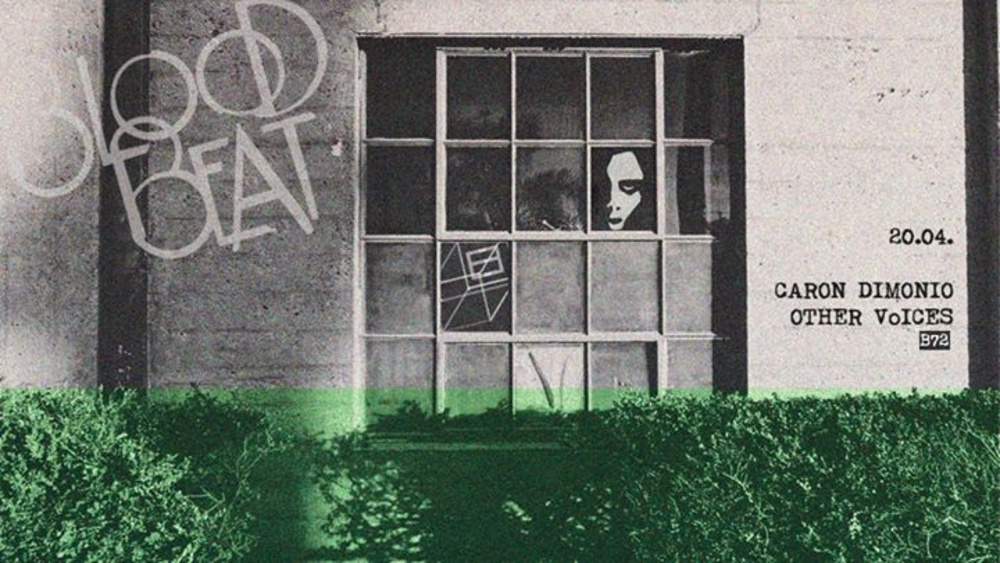 Wann?
Freitag, 20. April 2018
von 20:00 bis 05:00
Wo?
B72
Hernalser Gürtel, Stadtbahnbogen 72, 1080 Wien
Beschreibung
20 h - open doors
21 h - live: Other Voices
22 h - live: Caron Dimonio
23h - dj set: Anaïs / Efeufuchs / Vague
VVK 8€ / AK 10€

Tickets sind in der wienXtra-jugendinfo erhältlich.
1., Babenbergerstraße/Ecke Burgring
➡️Mo-Fr von 14:30-18:30
Tel. +43/1/4000-84 100
jugendinfowien [AT] wienXtra [DOT] at
www.facebook.com/jugendinfowien
------
This time Bloodbeat presents an Italian double feature:
Be prepared for Other Voices & Caron Dimonio!
Other Voices
The band "OTHER VOICES" was born in the late 90s playing a repertoire based on the classics of darkwave and performing in the region of Calabria. They have since started shape and structure their own first productions. In 2004 they decided to work on their first project in a recording studio resulting with the realisation of their first album "Anatomy of a Pain" produced in 2005 by a roman label "In The Night Time". This was the start for the O.V. for live performances in the Italian capital and various cities around Italy. The band have not only been the supporting band of El Guapo, the famous avant-rock American band, but they also played support in Rome to "The Buzzcocks", one of the most influential punk groups of the 70s.
Now they are here presenting their 2015 Album "A Way Back":
https://www.deezer.com/en/album/9815722
Caron Dimonio
Formed in Bologna, Caron Dimonio are Giuseppe Lo Bue (voice, guitar, synths, piano and drum machine) and FIlippo Scalzo (bass). The project started at the end of 2012 in Giuseppe's bedroom, where the first ideas began to take shape. In 2013, with Filippo joining in, the band truly begins to rise. Caron Dimonio's songs are a sort of mixture between post-punk and electronica with some "noisey" sounds. The lyrics are hermetical and decadent, while the music is minimal. In March 2013 Gianluca Lo Presti, the owner of "Disco Dada" label, produced their first demo EP. Since than, thanks to social networks, Caron Dimonio started to play in many Italian's clubs, supporting band like Soviet Soviet and KVB. On the 13th of December 2013 they concluded their first tour by supporting The ChameleonsVox at Bologna's Covo Club. They started to record their first album, "Gestalt", at Gianluca Lo Presti's Lotostudio in Ravenna, where many great music productions have been made (Tying Tiffany, Simona Gretschen, Cosmetic, Gattamolesta, Bevano Est, Vanity). "Gestalt" was released on the 13th of March in 2014. One of the tracks of the album, "3", was chosen by the well-known fashion brand "Gaudi" for an online commercial. In October 2014, "Gestalt" was re-released by the Atavic Records. Caron Dimonio also joined many other bands in playing "I Don't Wanna Be Me" for the Type O Negative's Peter Steele tribute called "This Man of Steele" produced by Darkitalia and released on the 14th of April 2015. The track was recorded, mixed and mastered by Giuseppe Taibi (Two Moons). On March 15th 2016 their new album, again produced by Gianluca Lo Presti, to be released and the new single called "Imago Mortis" to be out in February. In december 2017 will be released "Religio" the new third album. Caron Dimonio actually are in tour in Italy and Europe.
https://carondimonio.bandcamp.com