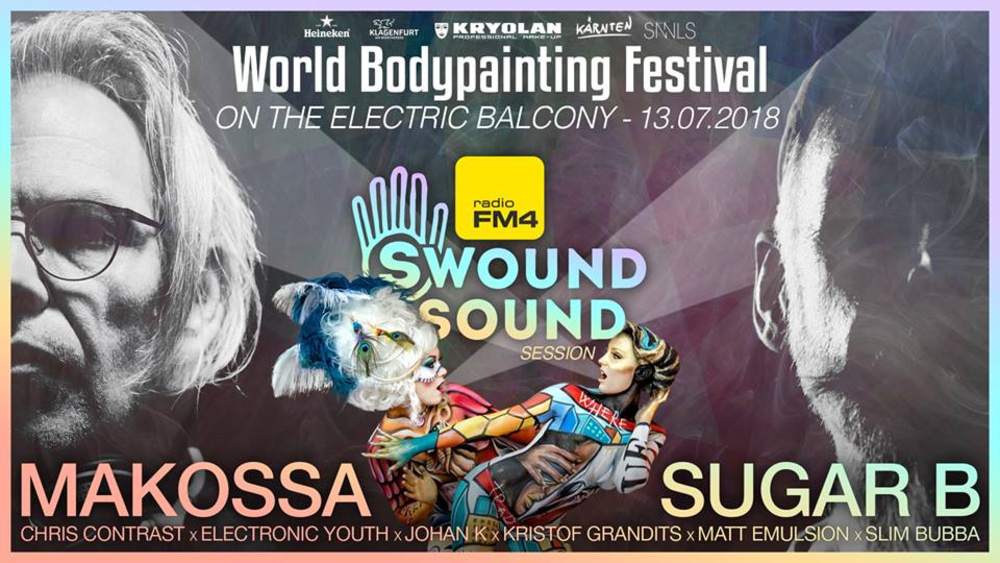 Wann?
Freitag, 13. Juli 2018
von 12:00 bis 21:00
Wo?
​World Bodypainting Festival
Theaterplatz 1, 9020 Wörthersee
Beschreibung
World Bodypainting Festival "Electric Balcony Stage" Open Air Area - hosted by Techno am See/SNNLS.at in collaboration with radio FM4Swound Sound.
🇬🇧 EN/US 🇺🇸
We will have some World Bodypainting Festival 2018 "Electric Balcony" specials like special entry conditions, free ticket contests or some super-secret-mega-awesome stuff! So please don't forget to click on the attending button below to get further informations.
🇦🇹 AT/DE 🇩🇪
Wir haben für euch einige "Electric Balcony" Specials vorbereitet. Dazu gehören vergünstigte Tickets, Gewinnspiele aber auch super-geheimes-mega-cooles Zeugs! Also bitte vergesst nicht, oben auf teilnehmen zu klicken, für alle zukünftigen Infos.
⨯⨯⨯⨯⨯⨯⨯⨯⨯⨯⨯⨯⨯⨯⨯⨯⨯⨯⨯⨯⨯⨯⨯⨯⨯⨯⨯⨯⨯⨯⨯⨯⨯
♫ ON DECKS ft. radio FM4Swound Sound ♫
◤ Makossa & #SugarB | Swound Sound, AT
> http://fm4.orf.at/radio/stories/fm4swoundsoundsystem
Wenn MC Sugar B nach dem Mikro greift und DJ Makossa die Turntables bedient, bleibt sicher niemand sitzen. Die beiden bringen die Atmosphäre einer rauchgeschwängerten Clubnacht genau dorthin, wo du gerade bist. Gäste aus aller Welt und vor allem viel Spaß komplettieren das Erfolgsgeheimnis des Swound Sound.
▉▉▉
♫ ON DECKS ft. SNNLS.at ♫
◤ DJ Chris Contrast, UK
◤ Electronic Youth, UK
◤ Johan.K, AT
◤ Kristof Grandits, AT
◤ Luca Cantalejo, DE
◤ Matt Emulsion, UK
◤ Slimbubba, UK
⨯⨯⨯⨯⨯⨯⨯⨯⨯⨯⨯⨯⨯⨯⨯⨯⨯⨯⨯⨯⨯⨯⨯⨯⨯⨯⨯⨯⨯⨯⨯⨯⨯
☼ GASTRO by Techno am See ☆
MAKAVA delighted ice tea mit oder ohne Aperol, Frozen Margaritas mit Mango oder Erdbeergeschmack, ein kühles Blondes oder doch ein Gin mit Tonic gefällig? Wir haben alles für euch, was das Herz begehrt ...und #Tschick ♥