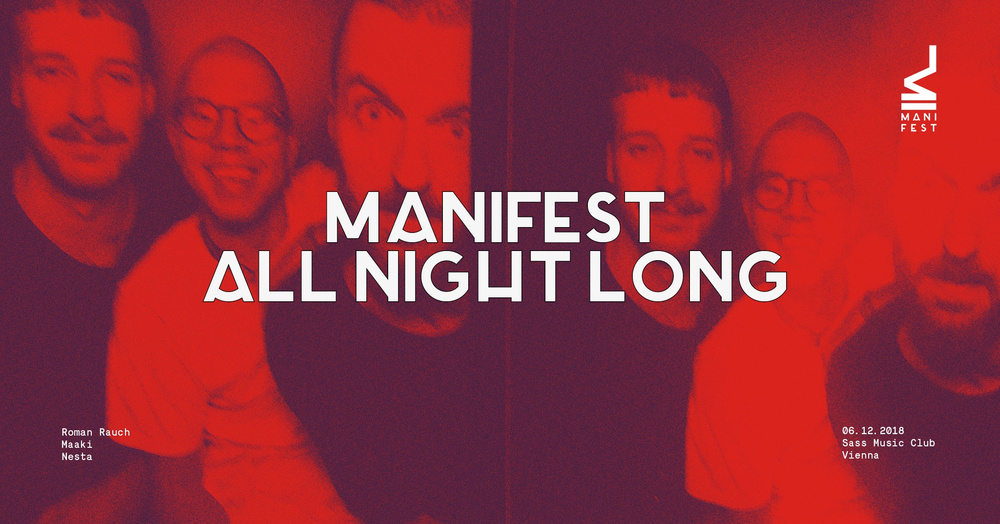 Wann?
Donnerstag, 6. Dezember 2018
von 23:00 bis 06:00
Wo?
Sass Club
Karlsplatz 1, 1010 Wien
Beschreibung
Manifest
All Night Long
7 hrs Ride
House, Disco, Boogie, Funk
THU, 06.12.2018
pres. by Radio Superfly, FYI Agency and Sass Music Club
- - -
LINE UP
Roman Rauch
Manifest/ Secret Crunch, AT
Maaki aka Power Plant
Manifest, AT
Nico Nesta
Manifest/FYI Agency/Fruits, AT)
- - -
ADMISSION
FB-Attendance: 5€ (till 01:00)
Students: 5€ (till 01:00)
Normal: 10€
- - -
ABOUT
It's quite simple.
For our last party this year we switched from a weekend date to a mid week date without any booking. Just 7 hours Manifest all nite long , which means Roman Rauch, Maaki and Nesta provide you with their best records and music files. Unfortunately those evenings happens not that often and so we decide not to book a bigger act for our last party this year.
Mark this one red in your calendar and remember our last all nighter at <>< Grelle Forelle. It was a blast!
We wish you a wonderful pre-christmas period ♥
- - -
SASS MUSIC CLUB
Karlsplatz 1
1010 Vienna