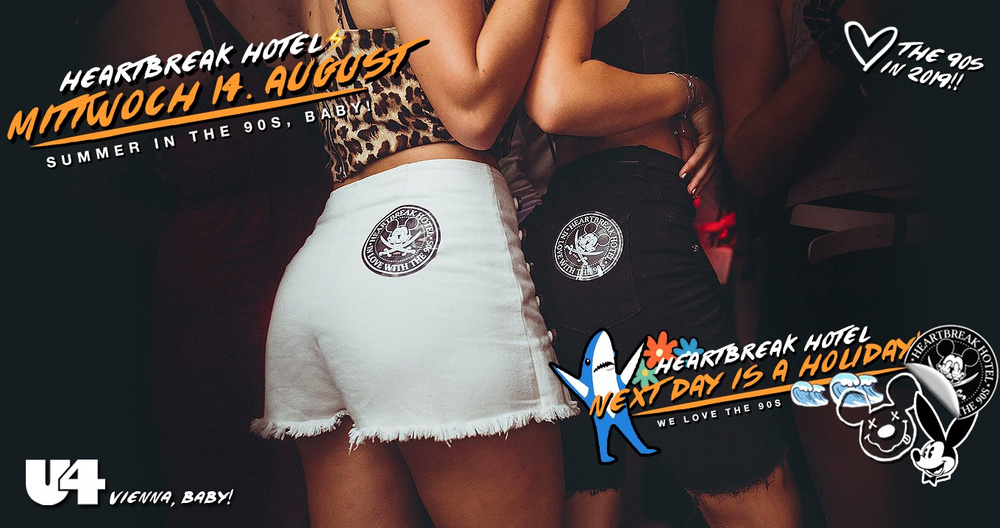 Wann?
Mittwoch, 14. August 2019
von 22:00 bis 06:00
Wo?
U4
Schönbrunnerstraße 222, 1120 Wien
Beschreibung
PENG! #5YRS ↯ 🌴🏖🍷❄️👯♀️⚡️🔥💯
Ladies & Gentlemen, auf los geht's los! ↯ 💖
HEARTBREAK HOTEL SUMMER IN THE 90S! ↯
MI 14. AUGUST ↯ NEXT DAY IS A HOLIDAY! ↯
Take a walk on the wild side! Der übliche 90s Wahnsinn im Turbogang! + Diesmal mit extra Attacke 2000! Floor! ♥
#attacke#sunnysideup#90skids#lieblingsfest#bussibaby
Kalt ist out - Zeit für Sonne! ☀️ Wir läuten unsere Lieblingsjahreszeit ein, Summer in the 90s!
Draußen wirds warm, wir machen heiß! ↯ 💖
TEQUILA (X) statt TE QUIERO ( ) ✔️
Letz Fetz & take a walk on the wild side with us! ⚡️🏆
Wir laden auch 2019 wieder jeden Mittwoch zu berühmt-berüchtigtem Trunk, Tanz & 90s-Gesang ins liebgewonnene U4. Don't miss this & join the movement! #hbhfam#heartbreak2k19 #90skids #lieblingsmittwoch#bussibussi
» Poste uns deinen 90s Lieblingstrack ins Event und du stehst bis MITTERNACHT auf unserer 5,- Friendslist! ↯
Aufgepasst, Herzensbrecher & Schmusekatzen!
Die verrückteste Family der Stadt lädt zum
gemeinschaftlichen Absturz.
Heartbreak Hotel dreht auf!
Ausnahmezustand jeden Mittwoch! ↯
Alkoholexzesse und gebrochene Herzen inklusive!
Auf dem Programm: 90s, Trash, Makava & Liebe!
Boys and Girls, get ready now!
↯ BACK TO THE 90S! EVERY WEDNESDAY ↯
Don't say maybe, baby!
90s, Indiedisco, Fun, Vollgas! Let's rock!
Every Wednesday! ↯
Tisch, Flasche, Geburtstag?
tableservice@u-4.at «««
» 90s trash meets indiedisco «
» elektropop meets kultclassics «
» can't stop the rock. «
MITTWOCH 14. AUGUST «
DOORS OPEN 22:00 «
______________________________
»»»poste deine lieblings
indiedisco/elektropop/90strashnummer
und du stehst automatisch auf der
ermäßigten 5€ gästeliste (bis Mitternacht).«««
wir fahren entlang der alten route 66 im caddy.
bewaffnet mit guter laune in richtung freiheit.
in der ferne grelles licht, »Heartbreak Hotel« ragt uns
in alten neon-lettern entgegen. die lang vergessenen
platten aus den trashigen neunzigern und die fetzige nummer zu der wir erst gestern komplett ausgetickt sind.
wir wussten sofort…
HIER. SIND. WIR. ZUHAUSE.
rock your leatherjackets, bring your friends, show your tattoos, have shots with the girls, break hearts every wednesday, sing to your old favorite tracks like there's no tomorrow, take pictures to remember what you'll have forgotten the next day.
analogue paparazzi action for our socialites «
welcome shots for starters «
ice cold drinks to kill the thirst «
old favorites of the trashy 90s with nu disco on 2 floors «
the biggest craze you'll ever have on a wednesday night «
fun, love & rock'n'roll! «
______________________________
EVERY WEDNESDAY ↯
all vintage↯kultclassics↯nudisco↯electropunk↯90s trash
» take a walk on the wild side with us
»»»»»»»»»»»»»»»»»»»»»»»»»»»»»»»
Poste uns (bis 22:00 am Eventtag) deine lieblings indiedisco/elektropop/90strashnummer auf die Eventwall und zahle nur 5,- pro Nacht (Gültig bis Mitternacht).
»»»»»»»»»»»»»»»»»»»»»»»»»»»»»»»
let's kill it baby! «
U4 Vienna «
Schönbrunner Straße 222, 1120