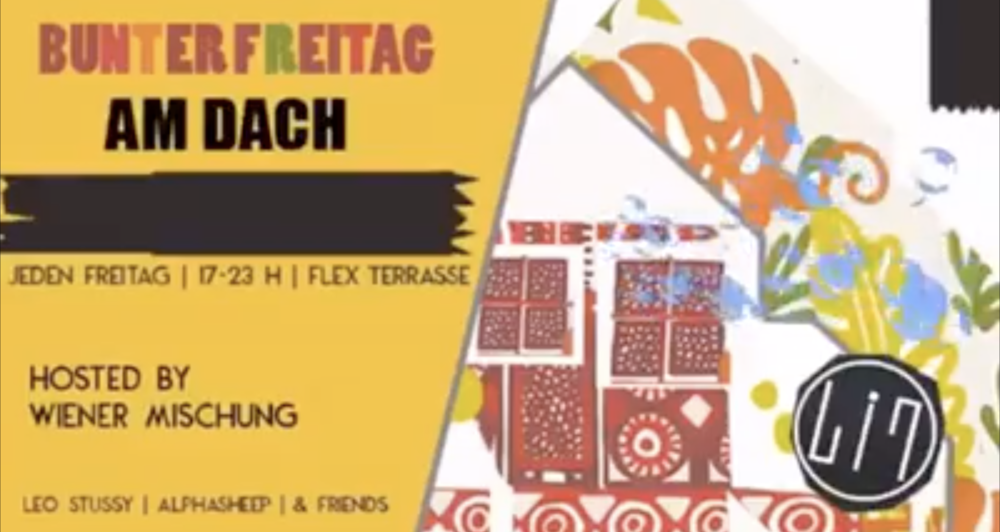 Wann?
16. – 17. August 2019
von 17:00 bis 23:00
Wo?
Flex
Augartenbrücke 1, 1010 Wien
Beschreibung
Sommer, Sonne, Strand & Techno
Hosted by Wiener Mischung
Es wird bunt und sommerlich auf der neuen Flex Dachterrasse. Wir freuen uns riesig gemeinsam mit tollen DJ Friends euch jeden Freitag mit feinsten House & Techno Sound zu verführen.
Eintritt frei.
Jeden Freitag ab 7. Juni bis 6. September
17.00 bis 23.00 Uhr, Flex Terrasse

+++ 9. August +++
18:00-21:00 FreakA & DJ Okim (Lost in Bass)
21:00-23:00 Alphasheep
Seit 1997 heißt es in Wien Lost in Bass wenn FreakA & Okim Augen und Ohren stimulieren. Elektronischen Musik aller Stilrichtungen, wenn die Turntables gedreht werden. Vinyl only!
+++ 16. August +++
17.00-19.00 Alphasheep b2b Leo Stussy
19.00-21.00 constant.change
21.00-23.00 Steve Saunders
Werner aka constant.change begann sein DJing in 2001, als Teil einer DrumAndBass- (und Radio-) Crew, der `Rasselbande`. Mit der Rasselbande konnte er über die nächsten Jahre in vielen kleinen und großen Clubs in Wien auflegen, ab und auch in großen wie WUK, Flex oder Arena. Als er nach London zog setzte er das fort, wurde aber von seinem beruflichen Werdegang überrumpelt. Seit er wieder in Wien ist, wurde in im Zuge des Kick-Startens der Wiener Mischung wieder aktiv, und ist dank ihnen sowie Steve Saunders von der DJ Academy auch musikalisch weit expandiert.
Starting from young age Steve demonstrated huge passion
towards music. Not bounded by any specific musical direction but rather eclectically searching for the one that he felt the closest to him. During mid nineties and the emergence of the big wave of the German underground scene, Steve completely dedicates himself to the electronic music. The biggest influence, from that period, came from Talla 2XLC, Laurent Garnier, Jeff Mills, etc. Steve was carefully observing the music scene before beginning to define his orientation that was geared towards progressive and techno direction. The most significant turning point in Steve's life happened after his relocation to Frankfurt at the end of the nineties. Feeling from within that he is carrying all that needed talent and incredible passion for music, Steve decides to dedicate his career to being a DJ.
https://soundcloud.com/werner-wertitisch
https://www.mixcloud.com/steve-saunders/

+++ 23. August +++
17:00-20:00 HuxDeBude aka Sdricci
20:00-21:30 Alphasheep
21:30-23:00 Leo Stussy
https://soundcloud.com/hux-de-bude-aka-sdricci
+++ 30. August +++
17:00-19:00 Alphasheep
19.00-21.00 Housebracker
21.00-23.00 Leo Stussy
+++ 6. September CLOSING +++
17.00-19.00 Alphasheep
19.00-21.00 Leo Stussy
21.00-23.00 b2b