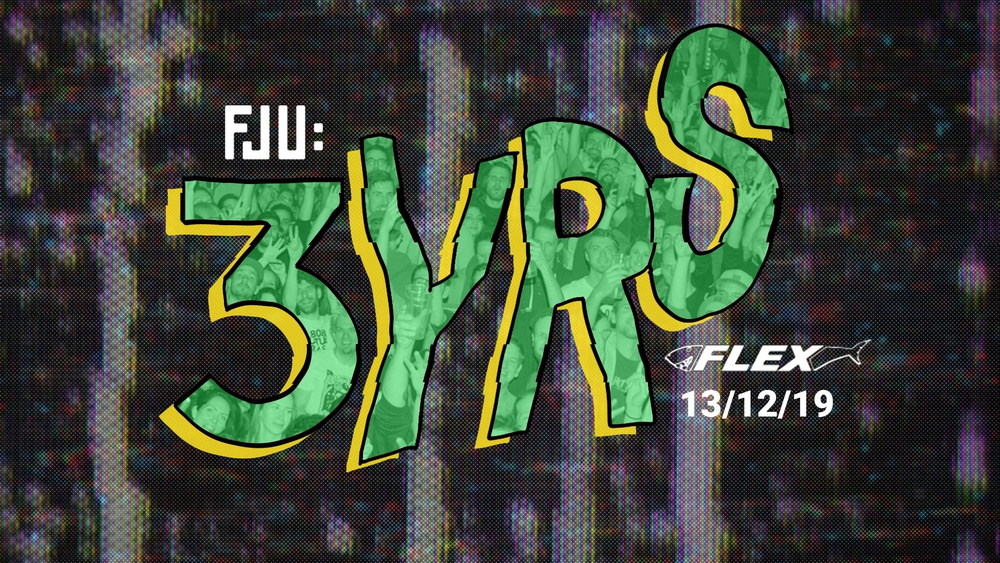 Wann?
Freitag, 13. Dezember 2019
von 23:00 bis 06:00
Wo?
Flex
Augartenbrücke 1, 1010 Wien
Beschreibung
🎉 FJU: 3YRS VARIETY 3YRS DEDICATED 3YRS SEEDS 3YRS FOLLOWING 3YRS HOUSE 3YRS DISCO 3YRS TIEFTON 3YRS FRIENDS 3YRS DANCE 3YRS TECHNO 3YRS kənˈtɪnjuː
------------------------------------
🔉 Lineup
🎚 Flex-Halle:
Coeus (MoBlack / Afterlife, SRB)
Klabika Collective 1/4 (BAM-C, BiH)
Scherlenbacher (FJU:)
Braco (FJU:)
Kono (FJU:)
🎚 Flex-Cafe:
Lo-ve-Fi-Crew
Max Scheiber B2B Gebetho (FM4 Swound Sound / FJU:)
Eren Duman (FJU:)
Yasin Güney (Hausfriedensbruch)
------------------------------------
⌚ Start: 23:00
💸 Eintritt: TBA
------------------------------------
🔜 FIYH with FJU: 20.11.2019 - Flex Cafe
🔜 Promo / Launch Party: 30.11.2019 DONAUTECHNO.COM
FJU: and friends - Watch out for tickets!
------------------------------------
Links:
https://soundcloud.com/thisiscoeus
https://soundcloud.com/klabika
https://soundcloud.com/scherlenbacher
https://soundcloud.com/bracoh
https://soundcloud.com/kono-011
https://soundcloud.com/dertinoises
https://soundcloud.com/erenduman
https://soundcloud.com/gebetho
https://soundcloud.com/hausfriedensbruch
------------------------------------
ℹ Info:
▶ Serbian based Coeus is steadily growing and is striving to become one of the electronic music finest dj/producers of the Balkans. Playing the piano from the young age has led his music evolve into deep and melodic sound filled with expanded melodic structures. With his releases like 'Elysian' on Moblack Records, 'Eden' on Afterlife and 'Forgotten Love' on Mimesis, he menaged to get a lot of attention.
In a short time, he gained the support by the sceene fines, with his tracks regularly played by the names like Tale of Us, Adriatique, Dixon, Ame and many more.
Starting his career mainly staying on the production at first, Coeus has fast established himself as a dj aswell. With the sets that vary from Afro to more electronic and disco sound you can be sure that it will always keep you moving.
▶ Klabika Collective is a quartet made of the founding fathers of a thing we call "Klabika". It was created as a group project comprised of DJs who have been playing under one name. Hidden from the general public and carried by genuine passion for groove and synthetic music, they've spent most of their time playing at private events, aftermovie parties, galleries, charming Austro-Hungarian flats, and the parts of Sarajevo where monumental examples of brutalist architecture can be found. But you can also meet them at the re-opening of the National Museum of Bosnia and Herzegovina, Sarajevo City Hall, Ars Aevi Contemporary Art Gallery, "Sarajevo Now" event at the Venice Biennale, the Mixmag Underground University terraces, Under-construction Academy Of Performing Arts and many more unknown venues and open-air locations.
The people behind Klabika Collective are also the official hosts of Solomun's homecoming gigs that have reached global cult status with its latest edition. "Klabika Collective"'s pioneering and innovative approach to event experiences in Sarajevo has unlocked new locations and forms of consuming electronic music.